There's a Lot of Confusion About What Is and Isn't in That Rolling Stone Article
Josh Marshall
TPM Alum Hunter Walker has a big scoop in Rolling Stone about the January 6th insurrection and the congressional investigation into it. But there seems to be some significant confusion about what's actually in the report and what it means for understanding the event itself and the investigation into it. I want to be clear up front this isn't a criticism of the piece itself. But understanding this is very important for understanding the questions of accountability and legality stemming from the whole event.
First of all, I saw many reactions to the story yesterday which treated it as a sort of smoking gun about the involvement of a number of far-right members of Congress. But at least to my understanding this part of the report was not new. Not really new at all. There are basically three parts of the story that we can distinguish for these purposes. 1) The legal/executive power attempt to overturn the election, 2) the "Stop the Steal" rally aimed at pressuring Congress and then 3) the breach of the Capitol complex which happened when then-President Trump told the rally attendees to march on the Capitol complex. But we've known basically from the beginning that these members of Congress were involved in 1 and 2. This has not just come out in reporting since January 6th. It was fairly open at the time. Indeed, most of these members were either present or actually spoke at the rally.
Read More
| News
Democrats are poised to orient the country's tax system in a whole new direction.
Read More
| News
Like lots of other rank-and-file Republicans, Robert Boyd has his doubts about the integrity of the last election, particularly in his home state of Michigan — and particularly in Detroit's TCF Center, where the city's votes were counted last year despite a concerted effort from local Republicans to disrupt the counting process.
Read More
| News
Senate Republicans blocked a major piece of Democrats' voting rights legislation, keeping the bill from even advancing to a floor debate despite Sen. Joe Manchin's (D-WV) insistence that it could garner bipartisan support.
Stop me if you've heard this one before.
Read More
| Muckraker
It was Jan. 3, and Jeffrey Bossert Clark had finally said yes.
Read More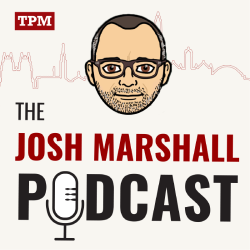 Ep. 196: Groundhog Day
Josh and Kate discuss yet another week where Democrats are close to a reconciliation deal — if the